The Cat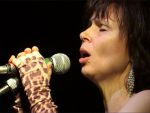 die bekannte Nürnberger Bluesfrau, spielte schon mit internationalen Größen wie Gary Wiggins ( CD THE CAT: "I Love My Baby", Ornament Records, 1990), Big Jay McNeely und Carey Bell ( CD Carey Bell Meets The Cat: "Breakdown Blues – Live", CMA 1991) und tourte mit ihnen durch Europa.
Inspiriert durch ihre Zusammenabeit mit Carey Bell vertauscht sie bei A Pocketful of Blues das Boogie – Piano mit der Bluesharmonica.
1996 spielte Sie mit renommierten Musikern der Nürnberg – Fürther R&B – Szene die CD Cat & The Gators: "The Cat´s Out Of The Bag Again", CMA 1996, ein und trat in Chicago mit Mitgliedern der Vance–Kelly – und Junior–Wells–Band auf.
1997 gründete The Cat A Pocketful of Blues und produzierte mit dieser Formation 4 CD´s (Axel v. Hagen meets A Pocketful of Blues - 1998 v. Hagen Music, Crazy Little Feeling - Rockwerk Records 2002, Songs and Sessions - 45°celsius schallplatten 2005, Sometimes life ain´t easy - A Pocketful of Blues 2015) mit eigenen Titeln. In ihrem Songwriting geht The Cat einen eigenen Weg jenseits ausgetretener Bluespfade: Liebes-, Lebens– und Alltagsgeschichten, manchmal heiter – skurril, manchmal leidenschaftlich – hautnah, erzählt und besingt sie in ihrer unverwechselbaren Art.
Live sorgt The Cat mit versierter Power an der Harmonica und samtigem Laidback in der Stimme abwechselnd für Begeisterung und Gänsehaut. Ihre tiefverwurzelte Liebe zu den bekannten und unbekannten Größen des Blues ist immer spürbar.
FESTIVALS: SWF-Blues-Festival Lahnstein, Triest Bluesfestival, Dresden Bluesfestival, Leipzig Bluesfestival, Bluesfasching Apolda, Fribourg Festival de Jazz et Blues, Blues and Jazz Open Wendelstein, Rother Bluestage, Bardentreffen Nürnberg, New Orleans Festival Fürth, Stimmenfang - Festival Nürnberg ...
CLUBS: Blue Monday Freiburg, Franzclub Berlin, Tonne Dresden, Unterfahrt München, Café Hahn Koblenz, Jazzstudio Nürnberg, Schlachthof Fürth, Checkerboard Chikago …